Let's admit the truth – we all love our dads. They are providers, protectors, leaders and friends, but they are also notoriously difficult to shop for. Does he want shooting accessories? How about camping gear? Survival equipment? For Father's Day in 2020, get something he'll love that won't break your wallet.
That's right – shopping for Father's Day 2020 doesn't have to be stressful, time-consuming or expensive. Whether your dad is an accountant, teacher, fireman or Superman, we have something special on this list for him.
Element Red Dot Sight
This Sightmark red dot optic is perfect for dads who enjoy hunting, competitive shooting or just putting holes in paper. With a lightweight design, rugged aluminum housing and price tag of $160, this is a great present for those dads who love the outdoors.
$159.98
100-15,000 hours of battery life (3V)
Picatinny Mount
Shockproof and fog-proof
30mm objective lens
Firefield Impact Reflex Sight
This Firefield Impact Reflex Sight is great for hunting, target practice, home-defense and competitive sport shooting, and it takes up only a tiny bit of space on a firearm. It comes with a kit that includes a lens cover, adjustment tool and battery.
$49.97
Digital Switch Brightness Control
Multiple Reticles
Unlimited eye relief
Shockproof design
Firefield Spotting Scope

The Firefield 20-60x60SE Spotting Scope Kit represents the top-tier in the Firefield spotting scope category. As a practical spotting scope, its uses vary from target shooting to long-distance game tracking, and its improved optical system offers better edge-to-edge clarity compared to previous Firefield spotting scopes
$59.97
Nitrogen-purged
Angled Eyepiece
Heavy duty tripod included
Terra-pod Sleeping Bag
Available in regular and long sizes, this sleeping bag is ideal for weather above 20°F. Featuring an interior chest pocket for holding important items, this sleeping bag also has a draft collar and hood drawstring for added coziness.
$59.97
Long size fits individuals up to 6ft 6 in
Full-size foot box with double zipper
Hang loops for storage and airing out
12 Survivors Shire Tent
This 4-person tent from 12 Survivors is an invaluable camping item. It is easy to assemble and take down with linked, collapsible poles, and it opens from the front and rear. It offers two interior vestibules for gear storage, a rainfly that extends outside of the tent, and includes a nylon carrying bag for transport and storage.
$129.97
Nylon pouches for poles and stakes
Bathtub-styled floor to prevent moisture intrusion
Guy lines to secure tent in windy weather
12 Survivors Folding Knife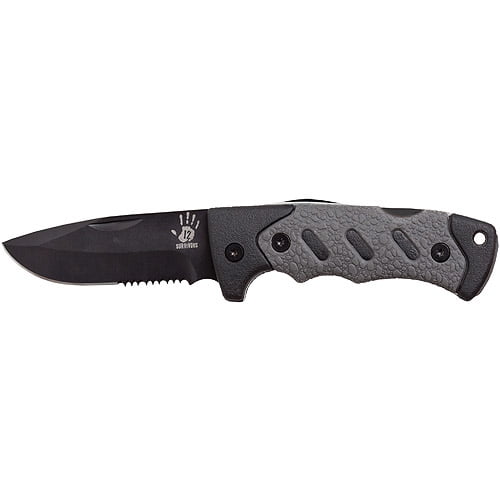 This simple folding knife from 12 Survivors is stainless steel and comes with a nylon sheath. Perfect for any cutting or slicing job, this super-affordable knife is an excellent Father's Day gift.
$9.97
Soft anti-slip handle
Through hole for keychain or paracord
Serrated blade
GeoSpark 150Lumen Flashlight
In virtually any emergency, a reliable flashlight is a vital tool. This single AA battery-operated flashlight has a durable composite construction and 3 flashlight modes: High power, battery-saving and SOS signaling distress.
$29.97
On/off push button
150 Lumen CREE LED
Waterproof, dustproof and shockproof
12 Survivors Binoculars
These water-resistant binoculars are great for scanning your surrounding area, whether it's rural, urban or suburban. Offering 10x magnification, these rubber-armored binoculars are a simple gift that never run out of usefulness.
$29.97
Multi-coated optics
32mm objective lens
Includes carrying case, neck strap and lens cloth
Monopod Shooting Stick
This Firefield Monopod Shooting stick is a great tool to help stabilize a firearm while out on an adventurous hunt. With a non-marring rubber rest, stable base and non-slip cork grip, this lightweight monopod can grip virtually any surface, and it is camera compatible with a standard bolt.
$23.99
Shooting Rest
Adjustable height
Cork grip
Sightmark Universal Boresight
This Sightmark Universal Boresight is great for getting on paper without expending unnecessary time, money and ammunition. For shooters who want to align their sights without breaking a sweat, this boresight is a must-have.
$19.97
Precision accuracy
Fast gun zeroing and sighting system
Reduce wasted cartridges and shells
Paracord Survival Pod
This 12 Survivors Survival Kit has everything an adventurer, hiker or camper could ask for. Whether you're roughing it in the country, mountains or desert, there is gear for first aid, fire starting, fishing and much more!
$17.48
40ft of usable paracord
Basics to secure food, shelter and a fire
Agility Riflescope
This Firefield Agility Riflescope is the perfect choice for precision shooters who don't want to empty their bank account. With a fully multi-coated lens system, this scope gives excellent resolution from dawn to dusk and allows for fast target acquisition.
$39.97
Fine duplex reticle
Weatherproof, shockproof and fog-proof
Compact, lightweight design